Xorcom CloudPhone Mobile Softphone App
Xorcom CloudPhone is a softphone mobile app that complements CompletePBX IP PBX communication systems. It's an executive-grade SIP softphone that doesn't show your mobile number. Instead, the extension makes you reachable via your office number.
The softphone mobile app works well with all Xorcom VoIP PBX systems. Talk to a Kital representative for more information.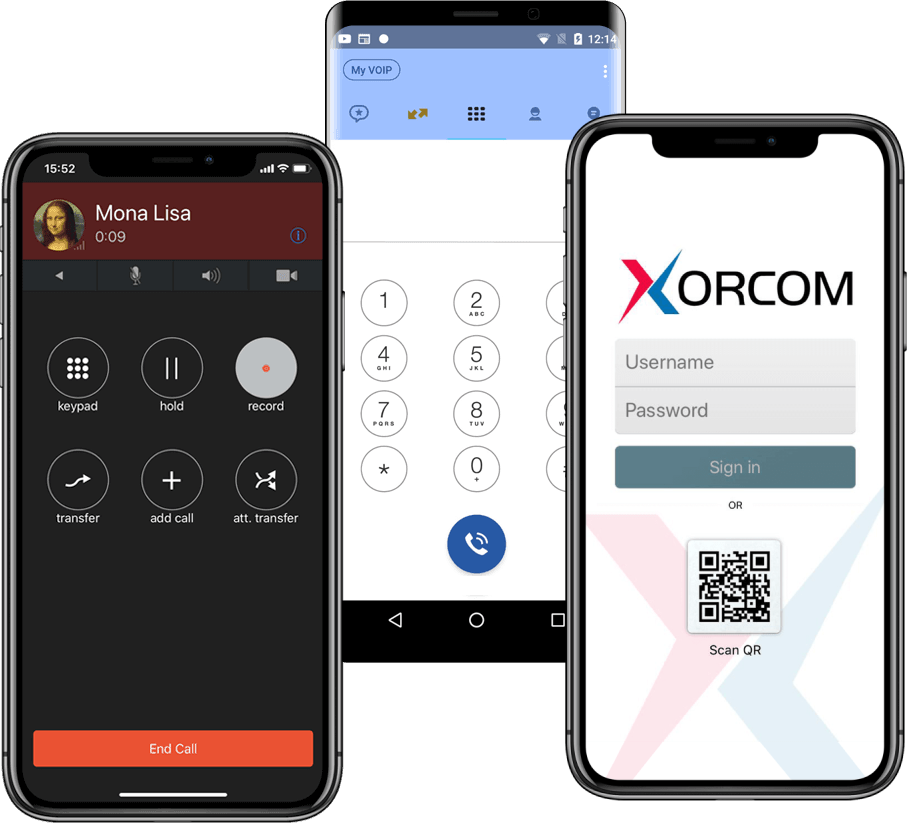 Take Your Office Anywhere with Xorcom CloudPhone
CloudPhone is a mobile extension of your business. Download this Xorcom softphone mobile app on your phone and you can access office work wherever you go. It's a safe and secure solution for remote employees and employees who are often required to travel.
One of the main highlights of CloudPhone is that it doesn't show your personal mobile number when you make calls using your phone. The mobile app is managed by CompletePBX IP PBX phone communication system so the call flow redirects to your business phone number.
If your team is always on the go, or if you're working with a remote team, consider investing in this executive-grade SIP softphone. Discuss the possibilities with a Kital representative.
How Your Business Benefits from CloudPhone
CloudPhone enables business communications through your mobile phone without exposing your personal mobile number. Many businesses are downloading this Xorcom softphone mobile app to establish full mobility of a remote team. The extension can also activate do-not-disturb schedules when you're off duty.
Consider these reasons for using the CloudPhone mobile app:
Xorcom's PBX phone systems also contribute to greater network security and privacy. Confidential lines can't be accessed by unauthorized personnel. Your everyday operations aren't at constant risk of a security breach. And more importantly, guests feel secure whenever they make calls in their rooms.
Get Xorcom CloudPhone from Kital
Xorcom CloudPhone promotes full mobility for businesses that use the CompletePBX IP PBX communication system. The extension lets you use your office number on your mobile phone. This isn't the only reason Kital recommends the Xorcom solution, though. Consider the following reasons, too:
User Friendliness
CloudPhone's user interface is easy to learn and master. You won't have trouble adjusting to it.
Dependability
The softphone mobile app is designed for dependable communication, wherever you're working.
Flexibility
Through Kital, Xorcom presents tailored phone systems based on your unique business needs.
Kital is one of the most trusted provides of telecom solutions in the Philippines. Ask us about Xorcom's mobile softphone app and we'll discuss how your business can maximize its usage.
Communicate with Your Team, Anytime and Anywhere
Xorcom CloudPhone makes remote work easier because it lets you access your business number on your mobile phone. Use this softphone mobile app to improve team communication and collaboration. Ask a Kital representative about it today.