Xorcom IP PBX Software Solutions for Hotels
Good customer service always depends on communication. Make sure your hotel guests enjoy a satisfactory experience during their stay by investing in Xorcom's IP PBX solutions for hotels.
Kital helps you integrate Xorcom Hotel PBX Phone System into your existing telephony system to streamline communication with your guests and among your staff for quick and efficient service. Talk to a Kital representative today to set up your own Hotel PBX System.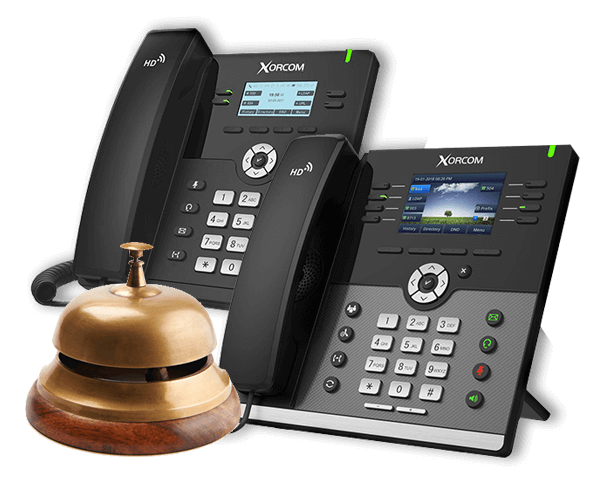 Improve Customer Service with Xorcom Hotel PBX Phone System
Xorcom features Micros Oracle-certified hotel PBX phone systems that aim for maximum efficiency. They use the Complete Concierge PMS interface to streamline check-in and check-out activities, manage wake-up calls, and update room and minibar status, among other hospitality-related tasks.
Xorcom's award-winning OP PBX solutions for hospitality are compatible with most property management systems. They're easily available for on-premise or data center integration or cloud installation. The Xorcom Hotel PBX Systems are perfect for hospitality industries given the highly mobile nature of a hotel's many working parts— from managers to receptionists, to information staff, room service, and house keeping specialists, equipping devices with integrated CloudPhone capabilities on Mobile or Desktop is a must for constant and updated communications.
We at Kital  understand the need for clear, uninterrupted phone communication in the hospitality industry to deliver the highest quality of service. So, we bring Xorcom solutions to you. Contact us today for inquiries about Xorcom Hotel PBX, Cloudphone for iOS and Android, and IP phone provisioning.
How Hotels Benefit from Xorcom Hotel PBX
Xorcom hotel phone systems are an excellent choice for hotels and concierge services. These systems can easily juggle multiple analog extensions alongside VoIP extensions and trunks. At the same time, they maintain accurate and transparent system management.
Consider the various ways your hospitality business can benefit from Xorcom solutions.
Choose Xorcom Hotel PBX Solutions from Kital!
Xorcom's hotel PBX phone systems contribute to optimal guest experience and staff communication. Kital recommends these IP PBX solutions for hotels and concierge services for various reasons:
User-Friendly Interface
The user interface is easy to learn due to its intuitive nature. Both guests and staff members will have no difficulty with the straightforward phone functions.
Dependable Phone System
Xorcom phone systems are built for the consistently heavy demands of the hospitality industry. Count on the flexibility of Xorcom phone systems to manage both your guests' requests and internal communications across the different departments.
Flexible PBX Solutions
Xorcom Hotel PBX solutions can be tailored to your unique operations and communications. Consider the following add-ons for a new standard of hotelier management!
Cloud Phone Systems
The Xorcom Hotel PBX solutions seamlessly integrate the utility of the Cloud Phone Systems, creating a stable communication channel for your staff to streamline guest management and booking inquiries both on-site and on the go. The CloudPhone is compatible with both iOS and Android operating systems for mobile, and also supports a desktop version for both Mac and Windows devices for the convenient use of your office and concierge staff.
Maintain the privacy and security of telephone transactions and your guest information with a secure organizational line!
IP Phones Provisioning
Outfit your hotel's offices and guestrooms with our Xorcom IP Phones for advanced utiliies that integrate Complete Concierge functionalities in the click of a button. Shorten processes between guests and staff and among other hotel personnel with the right IP phone setup!
As an established provider of telecom solutions in the Philippines, Kital readily helps you transition to better communication systems. Let us walk you through Xorcom Hotel PBX solutions and how they contribute to better guest services and internal communications at your hotel.
Get in touch with a Kital representative today for their recommended setup for your hotel!
Improve the Hotel Guest Experience
Communication is the key to success for all industries, especially hospitality. Guests who feel heard and catered to are more likely to leave positive reviews about your hotel. Talk to a Kital representative for inquiries about Xorcom Hotel PBX.