Good customer service always depends on communication. Make sure your hotel guests enjoy a satisfactory experience during their stay by investing in Xorcom's IP PBX solutions for hotels.
Kital helps you integrate Xorcom Hotel PBX Phone System into your existing telephony system to streamline communication with your guests and among your staff. Talk to a representative today.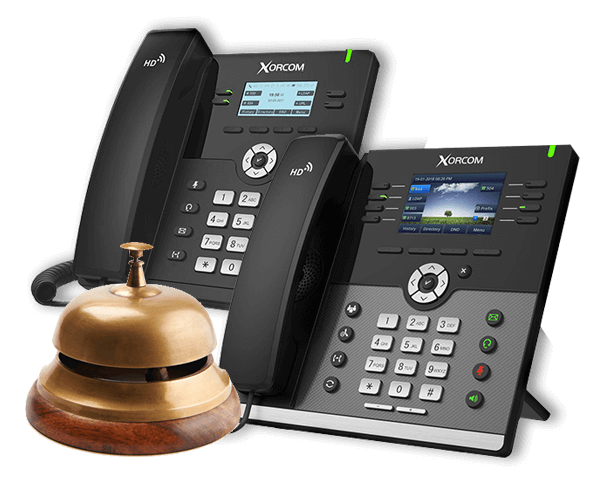 Improve Customer Service with Xorcom Hotel PBX Phone System
Xorcom features Micros Oracle-certified hotel PBX phone systems that aim for maximum efficiency. They use the Complete Concierge PMS interface to streamline check-in and check-out activities, manage wake-up calls, and update room and minibar status, among other hospitality-related tasks.
Xorcom's award-winning OP PBX solutions for hospitality are compatible with most property management systems. They're easily available for on-premise integration or cloud installation.
Kital representatives understand the need for clear, uninterrupted phone communication in the hospitality industry. So, we bring Xorcom solutions to you. Contact us today for inquiries about Xorcom Hotel PBX, Cloudphone for iOS and Android, and IP phone provisioning.
How Hotels Benefit from Xorcom Hotel PBX
Xorcom hotel phone systems are an excellent choice for hotels and concierge services. These systems can easily juggle multiple analog extensions alongside VoIP extensions and trunks. At the same time, they maintain accurate and transparent system management.
Consider the various ways your hospitality business can benefit from Xorcom solutions.
Xorcom's PBX phone systems also contribute to greater network security and privacy. Confidential lines can't be accessed by unauthorized personnel. Your everyday operations aren't at constant risk of a security breach. And more importantly, guests feel secure whenever they make calls in their rooms.
Choose Xorcom Hotel PBX Solutions from Kital
Xorcom's hotel PBX phone systems contribute to optimal guest experience and staff communication. Kital recommends these IP PBX solutions for hotels and concierge services for various reasons:
User-Friendly Interface
The user interface is easy to learn. Guests wouldn't have difficulty with the phone functions.
Dependable Phone System
Xorcom phone systems are built for the consistently heavy demands of the hospitality industry.
Flexible PBX Solutions
Xorcom Hotel PBX solutions can be tailored to your unique operations and communications.
As an established provider of telecom solutions in the Philippines, Kital readily helps you transition to better communication systems. Let us walk you through Xorcom Hotel PBX solutions and how they contribute to better guest services and internal communications at your hotel.
Get in touch with a Kital representative today.
Improve the Hotel Guest Experience
Communication is the key to success for all industries, especially hospitality. Guests who feel heard and catered to are more likely to leave positive reviews about your hotel. Talk to a Kital representative for inquiries about Xorcom Hotel PBX.