Sundray's gateways have provided businesses with better connectivity between devices and networks. Empower your business to reach greater success with intelligent gateways.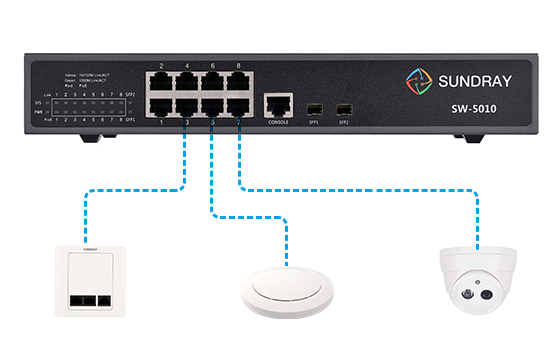 Intelligent Gateways for Fortified Networks
The Kital Group has been bringing the latest technologies to the Philippine Market for over 30 years.
Sundray's gateways have helped Philippine businesses optimize their connections and strengthen network security. With high-performance, cloud-powered gateways, network management can be simpler.
Why You Need Business Needs Gateway Solutions
Discover Sundray Gateway Models
Sundray provides a range of gateway models for different requirements. Explore different models and find the one that matches your business's needs.

XMG-5100
This high-capacity gateway is designed for high-speed WiFi applications in high-density locations. It cooperates well with different series of Sundray access points and switches.

XMG-3500
This is a high-performance, diversified, multi-service gateway that features wireless controllers and a range of security features. Sundray cloud technology provides intelligent and simplified network management.

XMG-3320-PWR
This high-capacity multi-service gateway supports 300 to 400 terminals. It features two management modes for non-technical users and experts for easier use.

XMG 3300
This high-performance multi-service gateway is designed to provide optimal security and a user-friendly experience. It supports unified management of wired and wireless networks and two management modes for non-technical and expert users.

XMG 3100 PWR
This gateway is designed for small enterprises and smart homes, so it features easy deployment and user-friendly operation and maintenance through the app. It provides exceptional security and seamless connections.

XMG 3200
This high-performing multi-service gateway features a wireless controller, authentication server, firewall system, and network status display. Its intelligent network management offers a seamless user experience.
Secure, Smooth Data Transmission
Discover how a high-performing gateway can improve data flow between different networks and boost productivity. Kital's technical support team guides you through Sundray's gateway models so you can choose the right investment.
Secure Your Connections for Smoother Workflow
Sundray gateway solutions provide another layer of protection for your business. Smart gateways can have an exceptional impact on your business by equipping your team with secure and efficient connections.
Contact a Kital Agent today to learn more about our solutions.