ZYCOO CooVox U100 Enterprise Grade PBX Phone System

Powerful and built to accommodate hundreds of users. The CooVox U100 is a heavy-duty yet cost-effective enterprise-grade IP-PBX system made for medium and large enterprises.
This unit is ideal for businesses with a demanding telephony environment. It can support up to 500 extensions, 100 concurrent calls, 100 simultaneous conference attendees and up to 7500 hours of call recording.
The ZYCOO CooVox U100 is a fully featured IP-PBX system with a high system capacity, allowing businesses to fulfill their current telecommunications needs while also providing future options for growth.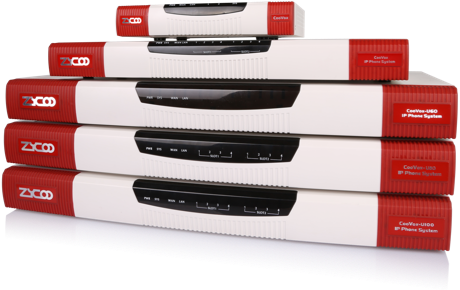 System Capacity
Can support up to 500 extensions
Can support up to 100 simultaneous calls
Can accommodate up to 100 conference attendees
7500 hours of recording/voicemail
Unlimited IVR levels

200 SIP/IMS trunks (maximum)

50 paging members

500000 CDR history
10000 phonebook contacts
What are the advantages of the CooVox U100?
In a two-U100 server setup, when one server goes down, the other server will take over all IP Phone services. This guarantees high availability of the phone services.
It will now be easier to set up and manage online conferences. Inviting, muting/unmuting and kicking out participants can be done by just a few mouse clicks.
This allows an easy and fast initial system setup. The Setup Wizard presents all the essential configuration steps in an easy-to-follow web-based interface.
The U100 has a built-in billing feature. No third-party billing software needed. Features like billing credit, prepaid/postpaid billing, and billing statistics are supported.
The system allows a quick and easy deployment of endpoint devices using PNP and Quick Register Code.
Fuel your communications and the success of your enterprise business with Kital
ZYCOO's IP-PBX products and services are perfect for operations that deal with high volumes of calls every day or offices with dedicated personnel for organizational communications.
Partner with Kital for your transition to ZYCOO IP-PBX. We're equipped with the expertise to deploy a turnkey system for your needs or tailor a solution to meet your business's specific challenges.
With our capabilities, you can transform your communications easily and within budget.
Get in touch with us today.